Awesome, diverse lineup curated by Ron Anderson @ JACK!!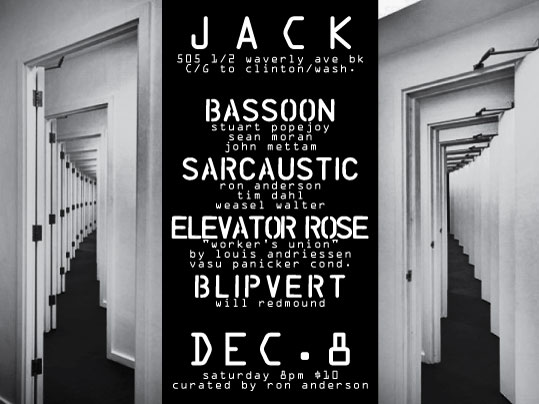 December 8th at JACK
Jack 505 1/2 Waverly Ave., Brooklyn, NY 11238 Between Fulton and Atlantic in Clinton Hill (C or G train to Clinton-Washington) www.facebook.com/jacknewyork 8pm $10 http://www.jackny.org
11pm
Bassoon -  Stuart Popejoy (bass, keyboards) Sean Moran (guitar) John Mettam (drums)
Bassoon is an instrumental metal trio. "Bassoon occasionally avails itself of sheet music onstage, but don't let that give you the wrong idea. The power trio is one of Brooklyn's heaviest and most challenging, bringing to mind a mixture of Melvins-style avant-sludge and daredevil '70s fusion." Time Out New York
http://www.popejoy.org/bassoon
10pm
SARCAUSTIC – Ron Anderson (guitar) Tim Dahl (bass) Weasel Walter (drums)
Just one rule prevails: The music has to be it direct, to the point, powerful, with no sentimental bullshit.
www.ronanderson-molecules.com
http://nowave.pair.com/weasel_walter
9pm
Elevator Rose - Performing "Worker's Union" by Louis Andriessen
Vasu Panicker (synth) Fred Trumpy (drumset) Joe Fee (electric bass) Ela Polak (violin) Adam Forman  (mallets) with guests from Luke Schwartz (guitar), Paul Pinto (piano), Jeff Young (violin) Pat Muchmore (Cello) Joe Tucker (percussion)
Elevator Rose is a contemporary-classical group. They perform great "classical" music written during the last 50 years. For this performance they will be lead by Vasu Panicker and will perform as a larger ensemble with guest musicians from Quiet City, thingNY, Anti-Social Music, and Innovox.
http://qcnmg.net/people/vasudevan_panicker.html
http://www.elevatorrose.com
8pm
Blipvert – Will Redmound (electronics)
The term "Blipvert," first used in the Max Headroom TV series, refers to an unrelenting stream of information resulting in a state of complete sensory overload. In a live setting, BlipVert's highly frenetic and unpredictable performances make each show an experience to remember.
http://www.synapsecompound.com/2.html