Aural Dystopia: New Hardcore Improv continues into 2013 with uncompromising uncomfort :
BRANDON SEABROOK with Weasel Walter and Chuck Bettis
MIKE PRIDE
IRON DOG (Sarah Bernstein, Stuart Popejoy, Andrew Drury)
LOU ROSSI
$10
Jack – 505 ½ Waverly Ave., Brooklyn, NY 11238 Between Fulton – Atlantic in Clinton Hill (C or G train to Clinton-Washington)
http://www.facebook.com/jacknewyork
http://www.jackny.org/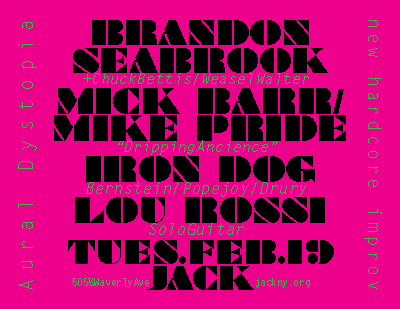 Aural Dystopia is a concert series curated by Stuart Popejoy at JACK to bring "New Hardcore Improv" to the ears and solar plexi of the metro tristate area https://www.popejoy.org/topic/auraldystopia
BRANDON SEABROOK is the banjo-shredding frontman of the raucous avant-thrash trio, Seabrook Power Plant. Mixing tweaked out hardcore with art rock improvisations, Seabrook's aggressively punk appropriation of the six- and four-stringed banjo has found a home in both DIY venues and experimental concert halls alike. Seabrook broke into Brooklyn's thriving independent music scene in the mid-90s as a member of the radical Jewish punk band Naftule's Dream and has since received national and international recognition. He has been profiled in The New York Times, The Wall Street Journal, NPR, and the UK music journal Wire. His group's two self-titled albums, Seabrook Power Plant I (2009) and Seabrook Power Plant II (2011), were released on Brooklyn's Loyal Label. Brandon Seabrook will join OneBeat at Roulette in NYC.
WEASEL WALTER is a composer and instrumentalist who founded the band The Flying Luttenbachers in Chicago in 1991 with late jazz cult figure Hal Russell and is a current member of Cellular Chaos and Behold…The Arctopus. Over the years, The Flying Luttenbachers included noted Chicago musicians such as Ken Vandermark, Jeb Bishop, Fred Lonberg-Holm, Dylan Posa, and Michael Colligan, while creating an uncompromising and mercurial body of abstract music drawing equally from no wave, death metal, free jazz, gamelan, noise music, hardcore punk and modern classical. Walter moved to the San Francisco Bay Area in 2003, where he formed the latest of many Luttenbachers lineups, remaining on percussion with the addition of bassist Mike Green (Burmese), and virtuoso guitarist Ed Rodriguez (ex-Colossamite, Gorge Trio). Singular guitar phenomenon Mick Barr (Octis, Orthrelm) joined the group in 2005. The Flying Luttenbachers ceased to operate in late 2007. In addition to leading various free jazz ensembles under his own name, currently he is a member of Burmese. Since moving back to New York, he has also formed Cellular Chaos with Marc Edwards (drummer) and Ceci Moss.
MIKE PRIDE Based in New York for the past decade, Mike Pride currently leads the quartet, From Bacteria To Boys, who record for AUM Fidelity Records, as well as the installation band Drummer's Corpse.  Pride is renowned worldwide for his ability to excel in a wide range of genres and ensembles. He has worked with everyone from improvised music icon Anthony Braxton to punk legends Millions Of Dead Cops, toured extensively on four continents and appeared on more than 70 recordings.  A short list of his collaborators includes Boredoms, Califone, Eugene Chadbourne, Chinese pop-star Priscilla Chan, Nels Cline, Trevor Dunn, Milford Graves, Mary Halvorson, Curtis Hasselbring, Jon Irabagon, Haino Keiji's Fushitsusha, George Lewis, Bill McHenry, Tony Malaby, Ikue Mori, Butch Morris, Joe Morris, Marc Ribot, Matana Roberts, Jamie Saft, Chris Speed, Jason Stein, Otomo Yoshihide and John Zorn.
IRON DOG creates spontaneous soundscapes where minimalist structures erupt into psychedelic onslaughts. Sarah Bernstein delivers enigmatic spoken word and violin distortions, Stuart Popejoy maneuvers synthesizer and bass collisions, and Andrew Drury commands a sonic sphere of drums and manipulated materials.