The big one! With Kid Millions, Ava Mendoza on the bill.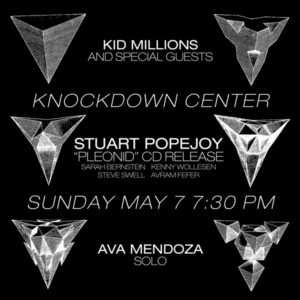 Stuart Popejoy's "PLEONID" CD Release
joined by Ava Mendoza solo guitar songs
and Kid Millions and Friends
$15 / 21+
https://knockdown.center/event/stuart-popejoy/
Tickets: https://www.ticketfly.com/purchase/event/1454277?utm_medium=bks
Doors @ 7PM
7:30 PM AVA MENDOZA SOLO
original songs for guitar and vocal
8:30 PM KID MILLIONS AND FRIENDS
new music for percussion
9:30 PM "PLEONID" QUINTET
Steve Swell trombone
Sarah Bernstein violin
Avram Fefer alto sax
Stuart Popejoy bass
Kenny Wollesen vibes + drums
"Pleonid" is Stuart Popejoy's composition for quintet released on Leo Records as LR-783. A single 60-minute piece presents ever-changing textures and moods, as five expert musicians interpret and explore shifting musical structures, contrapuntal motifs and trancelike chordal grooves. The piece was performed live in 2012 at the Firehouse Space in Brooklyn NY, with Sarah Bernstein on violin, Avram Fefer on alto saxophone, Steve Swell on trombone, Stuart Popejoy on electric bass, and Kenny Wollesen on vibraphone and drumset.
"Popejoy points himself towards counterpoint via improvisation and customised software that he has designed making use of braid theory in doing the maths. There's a real collective heat and sense of exploration that actually gets somewhere throughout this hour-long continuous work … [A] sparkling listen that unfolds into an Ornettian omniverse. Just be good to yourself and go listen!" — Marlbank jazz www.marlbank.net/even-more-dream-weaving/3822-hour-power.html
AVA MENDOZA (b.1983) is a Brooklyn-based guitarist, vocalist, composer and songwriter. Since 2002 she has been active playing er own music and in many different groups. In any context she endeavors to bring expressivity, energy and a wide sonic range to the music. Mendoza has toured throughout the U.S. and Europe and recorded or performed with a broad spectrum of musicians including singer Carla Bozulich (The Geraldine Fibbers, Evangelista), Fred Frith (Massacre, Henry Cow, Art Bears), Jon Irabagon, Mick Barr, Nels Cline, Jamaaladeen Tacuma, Weasel Walter and more. Her recordings are available on labels Tzadik, Weird Forest, Clean Feed, NotTwo, Unrock, ugEXPLODE, Resipiscent, New Atlantis, and more.
Friendly critics have called her an "avant-jazz virtuoso" (Brad Cohan, Village Voice), "a wizard on a semi-circle of effects pedals, but… equally adept with FX-less technique," (Lars Gotrich, NPR). In 2011 she was featured as one of Guitar World's "10 Female Guitarists You Should Know".